Study architecture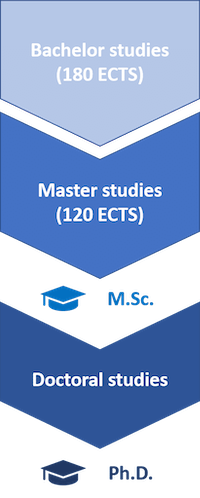 Study architecture
Each course offered at the University is a part of one of a larger curriculum, and ensuring that your course well fits to the curriculum and students' needs requires your understanding of the overall study architecture.
Bachelor (BSc) programmes typically last 6 semesters and include:
compulsory introduction and orientation phase (so-called STEOP)
compulsory academic core disciplines (chemistry, physics, statistics, etc) common for all Bachelor program students
compulsory subjects common for all Bachelor program students (physiology, ecology, evolution, etc)
study majors (so-called

Schwerpunkte

), such as botany, zoology, microbiology and genetics, molecular biology, etc with a number of major-specific compulsory and elective courses
elective courses on "additional scientific qualifications"
bachelor project.
Bachelor program "Biology" is managed by SPL30 headed by Silvia Kirchengast; however, most courses for the majors "Microbiology and genetics" and "Molecular biology" are organized by SPL31 (headed by Ivan YUDUSHKIN) and taught by the instructors from the Center of Molecular Biology.
Master (MSc) programmes are designed to last 4 semesters and include:
compulsory courses common for all Master program students
compulsory and elective courses on study majors within the Master program (Schwerpunkte)
elective courses
master project and public defense.
The three Master programs are organized and run by SPL31 headed by Ivan YUDUSHKIN and taught by the instructors from the Center of Molecular Biology. An additional joint Master program "Molecular Precision Medicine" is organized together with the Medical University and administered by the Medical University of Vienna.
Doctoral (PhD) studies are primarily research-based and include:
entry phase (public presentation of the research proposal, thesis agreement, etc)
research phase (active research, courses, soft skills development, progress reports, publications, etc)
final phase (thesis preparation, submission, review and evaluation, public defense).
The doctoral program is organized and run jointly with other institutions on campus Vienna BioCenter; the doctoral studies at the University of Vienna are coordinated by the D-SPL Pavel KOVARIK.
Naturally, the faculty and students also teach at other University Centers and Departments (e.g., Chemistry, Physics, Mathematics, Center for Teaching and Learning, etc).